Jasmine Green Tea
Jasmine Pearl Tea
Chamomile Tea
Wedding Chai Tea
Chocolate Chai Tea
Dragonwell Tea
Tibetan Green Tea
Ginseng Oolong Tea
Buddha Tea
Good Morning Tea
Eight Treasure Tea
Bitter Melon Tea
Astragalus Root Tea
Ginger Tea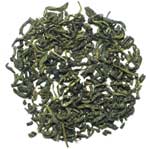 This organic,
jasmine green tea
offers an intense jasmine fragrance. This is acquired by picking the jasmine flower late a night (generally around midnight) when the blossom is in full bloom.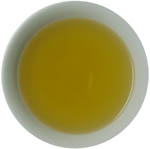 The flowers are layered upon the tea leaves to impart their fragrance. Once the night is over, the jasmine fragrance has transferred to the tea leaves and the blossoms are discarded. This process is carried out on multiple successive evenings to impart the superior flavor and aroma of this specially selected tea.
PRICE: One half pound – $32.00
PRICE: One pound – $60.00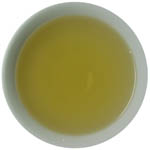 The most tender green tea leaves and buds are hand-rolled into small pearls and infused with the essence of fresh jasmine blossoms. The fragrant blossoms are mixed with the premium green tea pearls according to a traditional tea scenting process that dates back more than nine centuries. The tea absorbs the fragrant essence of the fresh jasmine flowers, making the pearls sweet and very aromatic.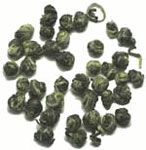 The blossoms are then removed by hand after the scenting process, leaving only the jasmine-infused tea pearls. Jasmine tea is said to ease nervous tension, break down saturated fat, reduce cholesterol, and increase circulation.
PRICE: One half pound – $32.00
PRICE: One pound – $60.00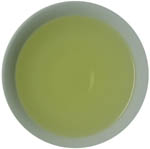 There are several varieties and countries of origin of Chamomile – sometimes referred to as bachelor buttons because of the shape of the flower heads – but the best quality comes from Egypt. The sandy loam and nutrients from the Nile create perfect growing conditions. Chamomile flowers have a yellow center and white petal. Essential oils in the flowers produce a soothing pleasant aroma and a fruity character. In some parts of Europe, particularly southern France, chamomile plants have been strewn on floors and pathways to give the area a good scent.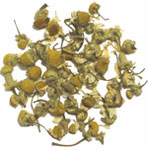 It is often sipped for relief of health problems ranging from toothache to nervousness. Chamomile has also been noted as beneficial for soothing headaches, and is a natural relaxing herb known to promote restfulness and drowsiness. Chamomile tastes great with such condiments as honey, lime, lemon and cinnamon!
PRICE: One half pound – $32.00
PRICE: One pound – $60.00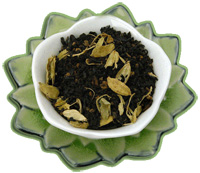 Wedding Chai Tea Assam with vanilla, & cardamom. If you like cardamom, you'll love this chai blend. The robust Assam tea gives it a bold, full-bodied flavor accented by the smooth cardamom and sweet vanilla flavors. Wedding Chai Tea is a wonderful tea with a full rich flavor. The tea is composed of fine leaves and spices. The aroma is sweet, fruity and flowery. This tea produces a very peasant aftertaste.
The color is a deep amber when brewed. This tea is imported from the mountains of Nilgiri, India.
PRICE: One half pound – $32.00
PRICE: One pound – $60.00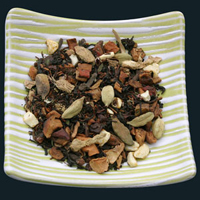 Chocolate Chai Tea Black tea is the most well known tea and is enjoyed hot or iced, flavored, scented, or blended. It undergoes a full fermentation process composed of six basic steps: withering, rolling, sorting, fermenting, firing (or drying) and grading. Roll breaking cracks the surface of the leaf exposing the leaf's enzymes to air initiating oxidation. Oxidation is the process that results in the flavor profiles of black and oolong tea.
Chocolate Chai is a trendy and robust black tea blended with spices (cloves, cardamom, cinnamon, ginger, black pepper), vanilla, mint, and chocolate bits. Adding milk greatly enhances the chocolate taste!
PRICE: One half pound – $32.00
PRICE: One pound – $60.00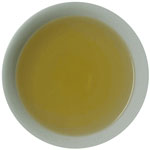 Dragonwell Tea Dragon Well (Lung Ching) is perhaps the most famous green tea from China, named after the famous Dragon's Well landmark in the West Lake area of the Zhejiang, where the tea was first made. Dragon Well tea is know for its refreshing energy as well as its unique shape and remarkable flavor.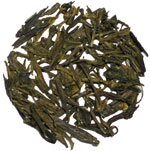 This tea imparts a mellow flavor with a bittersweet and savory finish. The well-balanced aroma of the infusion suggests freshly cut grass and toasted chestnuts. The uniform sword-shaped leaves and buds are indicative of the traditional artisan process used to make this exceptional tea.
PRICE: One half pound – $32.00
PRICE: One pound – $60.00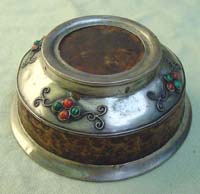 Dragonwell Mount Cloud Tibetan Organic Green Tea This tea is grown at the shores of Yigong Lake at the base of huge mountain peaks providing crystal clear run-off, with perfect mist and cloud conditions for tea growing. The tea plants are organically grown. This tea product is often provided as a gift for visitors to Tibet.
Tibetan tea leaves are boiled in soda water. The tea is then strained and poured into a churn, and salt and butter are added before the mixture is churned. The resulting tea is light reddish white and has a thick buttery surface.
PRICE: One half pound – $32.00
PRICE: One pound – $60.00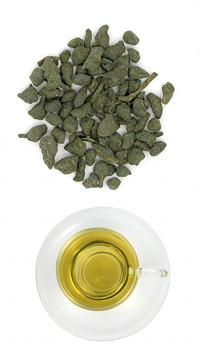 Ginseng Oolong Tea Ginseng Oolong Tea, is a blend of high quality Oolong tea with ginseng. This blend lets one enjoy the delightful aftertaste of ginseng with the crisp taste of Oolong. The tea has the rich smooth taste of oolong with a sweeter and longer lasting aftertaste than the traditional oolong tea. The bitter tartness associated with ginseng can not be tasted in this tea.
Ginseng replenishes your body with energy and Oolong tea has a rich taste with many health benefits of tea.
Soothing and sweet, with cooling sensation in your mouth. Try this unique tea and taste why it is popular in southern Asia.
PRICE: One half pound – $32.00
PRICE: One pound – $60.00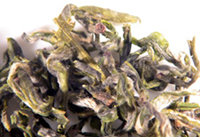 Buddha Tea Planted one thousand years ago during the Tang Dynasty, this green tea is grown on an island in the East China Sea. It has a sweet flavor and beautiful small leaves.
This tea is grown in a constant sea breeze on the highest point of Zhoushan Island, near the legendary home of the bodhisattva Kuanyin, in the East China Sea. After being shaped like an eyebrow, a classic tea-leaf shape, the shape was modified in 1979, and now the perfect leaf-and-bud sets are processed in a small island factory with 16 owners.
PRICE: One half pound – $32.00
PRICE: One pound – $60.00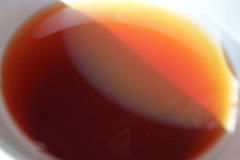 Good Morning Tea Fresh beginnings start with a cup of GOOD MORNING TEA. Awaken your senses with this delicious blend of refreshing Spearmint, invigorating Ginseng, and other flavorful herbs brought to you from round the world We use only the finest and freshest herbs available to make this delightful tea. A natural alternative to caffeine, the Flavorful lift of GOOD MORNING TEA will put sparkle in your day.
PRICE: One half pound – $32.00
PRICE: One pound – $60.00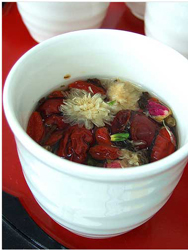 Eight Treasure Tea Imagine, high-mountain Oolong tea, golden raisins, dried longans, crunchy-sweet winter melon, fat Chinese wolfberries, juicy Chinese red dates, tender rose petals, and sweet pinenuts. Each ingredient sourced and prepared according to exacting standards.
Eight Treasure Tea invigorates vital qi (energy) and benefits blood. It is used for deficiency of both qi and blood, sallow complexion, loss of appetite, myasthenia of the limbs, menorrhagia, severe palpitation, it is also used for anemia due to deficiency of qi and blood, syncope due to hypoglycemia, atrophy of the optic nerve, ulcer not closing up for a long time, abdominal pain during menstruation, and puerperal tiredness and fever.
Enjoy a most heavenly, soothing and uplifting drink.
Bitter Melon Tea Bitter melon is scientifically known as Momordica charantia. Bitter melon at times is referred to as bitter gourd. It is a common food item in Asia, South America and the Middle East. The plant is called kuguazi in China, nigai uri in Japan, karela in India, ampalaya in the Philippines and amargoso in South America.
Clinical findings indicate that the fruit and seed contain a concentration of active principals that help maintain normal glucose oxidation. Scientific research conclude that bitter melon promotes normal beta cell function of the pancreas. These active principles include charantin and an insulin-like protein referred to as polypeptide-P, or plant insulin. Clinical data can be easily researched through the internet by searching for bitter melon. Index Medicus/PubMed also includes numerous medical publications about diabetes and the anti-diabetic properties of bitter melon.
The bitter melon fruit derived its name from the plants' quick tendency of turning bitter. The fruit requires delicate handling to remain succulent. Herbal Tea Enterprises under the brand name HRBS uses only farm grown fruits. No genetically modified plant is ever used by the company. No chemicals, additive or preservative is added. The tea is also caffeine free. To insure quality and effectiveness, the fruit is immediately processed, within 24 hours after harvest. This immediate processing locks in the active principles and nutrients. At the same time the fresh quality of the fruit is preserved. Thus the natural aroma quite noticeably in HRBS bitter melon tea.
The leaves, fruit and seed of the bitter melon plant can all be processed into tea. The leaves are more commonly available in stores. However, it is the fruit and seed that contain the highest concentration of anti-diabetic properties.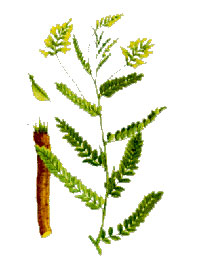 Astragalus Root Tea First mentioned in an ancient Chinese book, Astragalus (Astragalus membranaceous) is used throughout the Orient as a tonic food and healthful plant. Astragalus is a member of the legume family. It is an upright, yellow-flowered perennial herb that grows about two feet tall. The genus Astragalus encompasses more than 2000 species worldwide and is beleived by botanists to be the largest genus of flowering plants.
Astragalus is a key herb in traditional Chinese "FuZhen" therapy. Traditional FuZhen theory concentrates on the body's own ability to rejuvinate and maintain food health. Astragalus is often taken with Ginseng and Reishi Mushroom.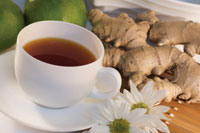 Ginger Tea Revered around the world for its pungent taste, ginger (Zingiber officinale) is a natural spice that is also widely prized for its medicinal properties. Since ancient times, traditional healers in a diverse array of cultures have used this plant primarily to help settle upset stomachs.
Chinese herbalists have relied on ginger as a medicine and flavoring for more than 2,500 years. The early Greeks mixed it into breads (hence the first gingerbread), and North American colonists sipped nausea-quelling ginger beer, the precursor of modern ginger ale. Today, many cultures continue to rely on ginger for controlling nausea and also for reducing inflammation.
A botanical relative of marjoram and turmeric, the ginger plant is indigenous to southeast Asia and is now also extensively cultivated in Jamaica and other tropical areas. It's the plant's aromatic rhizome (or underground stem) that's used for culinary and medicinal purposes.
Health Benefits Ginger's effectiveness as a digestive aid is due largely to its active ingredients: gingerols and shogaols. These substances help to neutralize stomach acids, enhance the secretion of digestive juices (stimulating the appetite), and tone the muscles of the digestive tract. Research confirms the presence of anti-inflammatory properties in ginger as well.